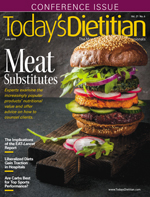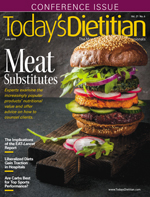 June 2019 Issue
Meat Substitutes
By Ginger Hultin, MS, RDN, CSO
Today's Dietitian
Vol. 21, No. 6, P. 18
Experts examine the increasingly popular products' nutritional value and offer advice on how to counsel clients.
As vegan and vegetarian diets continue to be popular food trends, consumer interest in meat substitutes is growing. Critics warn that meat is a whole, unprocessed food and replacing it with a meat substitute product full of additives, colors, flavors, and fillers is an unhealthful practice. Advocates see it as a delicious and nutritious alternative that benefits the environment and human health. With new brands popping up constantly, dietitians can help clients navigate the meat substitute category with confidence so they can find the right balance to meet their dietary goals. From mushrooms to soy, green peas, wheat gluten, beans of all types, and more, the presence of meat substitutes likely will remain and continue to grow based on current trends and projections.
Consumer and Market Trends
Studies show that weight management and cholesterol reduction through decreased intake of saturated fat, as well as consumers' perception of them as healthful alternatives to meat, largely drive meat substitute purchases.1,2 Consumer interest in meat replacements first increased in 2001 after several outbreaks of foodborne illness as a result of bovine spongiform encephalopathy (also known as mad cow disease) and E coli. That interest has continued through the 21st century so far; ordering data from the online delivery service Grubhub found that, in 2017, orders of vegan food increased by 19% compared with data from the previous two years. Initiatives such as Meatless Monday, which encourages consumers to eat meat less frequently by dedicating one day per week to eating vegetarian or vegan, also may be driving these trends. Grubhub reports that orders for meat substitutes increase by 5% on Mondays compared with other days of the week, and orders of jackfruit, a popular meat substitute, are 33% higher on Mondays.1
Not only are consumers ordering meat substitutes online from restaurants, they're also purchasing them in grocery stores. In the United States, 140 new meat alternatives were released between January 2014 and March 2018, with $4 billion in sales in 2017 and projections to hit $5 billion by 2020.2
Especially popular in restaurants and grocery stores right now, meat substitute brands Beyond Meat and Impossible Foods aim to make products that mimic the taste and texture of meat through sizzle, aroma, and color. Of note, these companies aren't necessarily targeting vegans and vegetarians who are seeking only plant-based options; they're targeting people who enjoy eating meat but are looking for alternatives lower in saturated fat and/or higher in fiber. For example, Beyond Meat estimates that 70% of its customers are omnivores, not vegetarians.2
Chris Vogliano, MS, RDN, a PhD candidate studying sustainable food systems, explains that "meat substitutes have been on the market for a while, but in the past five years we have seen an explosion of options; 2019 will be a year in which new products enter the market and previous products will be significantly improved to become more sustainable, nutritious, and—most importantly—more delicious."
However, not all consumers are excited about replacing meat. A study of 533 subjects who reported either not using meat substitutes at all, using some ("light/medium users"), or using many ("heavy users") found that acceptance of meat substitutes is driven by attitudes and beliefs towards the products as well as a willingness to try new foods. Heavy users of meat substitutes said that motivation based on ethical food choices was a main driver.3
Researchers hypothesized that to further increase consumer interest in meat substitutes, especially for nonusers or light/medium users, sensory quality of products and resemblance to meat will be an important factor. The study also cited sociodemographic differences among these groups. The nonmeat substitute users had lower levels of education (p<0.05) than light/medium and heavy users. Female participants were more likely to be light or heavy users of meat substitutes (p<0.02), while males were more likely to be nonusers.3 Other studies have mirrored these outcomes, finding that women and those in younger age groups (25–34 years) generally were more likely to consume plant proteins and meat substitutes.4
Types of Meat Substitutes
Which foods are considered meat substitutes is a broad topic. Many companies are competing with meat in that they're attempting to create products that look and taste like meat. Jackfruit, for example, looks and tastes like meat but doesn't have the same nutritional properties. It's low in protein and high in carbohydrates and fiber. Bean burgers or tofu can mimic the texture and flavor of meat like jackfruit does, but they're rich in nutrients and can be used in place of meat in recipes.
Products with a meatlike taste and texture are composed of many different plant foods. Soy, wheat gluten, mushrooms, beans, lentils, and peas are among the most popular bases. Many products also contain blends of a variety of plant-based foods, including whole grains, nuts, and seeds. And meat substitutes come in many forms, including burgers, breakfast meats such as sausages and bacon, chicken, fish, and pulled pork.
Pros of Using Meat Substitutes
Benefits of using meat substitutes range from higher fiber and lower saturated fat content to food safety, positive environmental outcomes, and dietary diversity. Some consumers who want to eat less meat are averse to the taste or flavor of vegetables, soyfoods, beans, or whole grains but may find these foods packaged within meat substitutes more acceptable. Debbie Petitpain, MS, RDN, LDN, a spokesperson for the Academy of Nutrition and Dietetics (the Academy), says that "meat substitutes can promote health if they are used in place of other foods that are higher in saturated fat. Many are a good source of fiber as well."
Chronic Disease Prevention
There are health benefits to eating a more vegetarian or vegan dietary pattern. The Academy's Position Paper on Vegetarian Diets states that appropriately planned vegetarian and vegan diets may provide health benefits for the prevention and treatment of certain diseases.5 Meat doesn't contain antioxidants or fiber, so replacing it with a whole grain, soy, and/or mycoprotein option will boost intake of these compounds. Protein levels in meat substitutes often are, though not always, comparable to those of meat.
Food Safety
Eating nonmeat alternatives reduces the risk of E coli or Salmonella infection. Per the Centers for Disease Control and Prevention, raw foods of animal origin are the most likely to be contaminated, though fruits and vegetables also can be contaminated with harmful bacteria.6 "Most meat substitutes simply need to be heated but not cooked like meat, so if someone had concerns around the safety of consuming undercooked meat, especially if cooking equipment is lacking or the cleanliness of an operation is questionable, then the meat substitute might be the better choice," Petitpain explains.
Environmental Sustainability
There are environmental benefits to replacing meat with plant-based meat alternatives. It's also the position of the Academy that "plant-based diets are more environmentally sustainable than diets rich in animal products because they use fewer natural resources and are associated with much less environmental damage."5
"There are numerous reasons consumers are opting for meat substitutes," Vogliano says. "The biggest growth of meat substitutes is among consumers who want to cut back on their meat consumption due to environmental and health concerns. Most meat substitutes are made from plants, which tend to be significantly more environmentally sustainable than beef, for example. If the meat substitutes are minimally processed and contain legumes, whole grains, and vegetables, then benefits include an increased intake of fiber-rich, plant-based foods. Americans are consuming over 500% of the levels of red meat [that are] considered both healthful and sustainable. Swapping beef for bean-based burgers can help improve health and the environment."
Cons of Using Meat Substitutes
While there are many advantages to eating meat substitutes, there are some drawbacks as well. First, dietitians must gauge whether plant-based meats are appropriate for each client by taking their overall dietary pattern into consideration. "A drawback of consuming meat substitutes would be if they dominate the diet and crowd out other foods," Petitpain explains. "Whatever you choose for your protein source, be sure to fill at least half of your plate with fruits and veggies." Other disadvantages include the following.
Lack of Vitamin B12
Vitamin B12 is one critical nutrient that's found only in foods of animal origin. If a client avoids all meat, dairy, and eggs, they'll need to supplement with a reliable form of this vitamin. Foods commonly used in meat substitutes, such as whole grains, beans, peas, soyfoods, fruit (jackfruit), vegetables, and mushrooms, aren't sources of B12.
Higher Price Points
Prices continue to change for meat and meat substitutes, but meat alternatives often were more expensive than meat when they first debuted. According to some estimates, in the mid-2000s, many meat substitute products were, on average, three to four times more expensive than meat.3 For more affordable plant protein options, clients can purchase whole beans, lentils, and soyfoods rather than packaged meat alternatives.
Increased Sodium and Saturated Fat
Being more heavily processed, meat substitutes are higher in sodium than fresh meat. Sodium levels (both in meat alternatives and fresh meat) are compounded by ingredients such as marinades, barbeque sauce, cheese, pickles, and other condiments used in recipes or served on the side.
Even though they're made with beans, tofu, and other plant foods, meat substitutes can be high in saturated fat. Manufacturers of meat alternatives often use coconut and palm oils, both of which are high in saturated fat, to give products a mouth feel similar to ground beef, so it's important for clients to read labels on meat substitutes to determine fat content.
Allergenic Ingredients
Another concern is that many meat substitutes contain top food allergens, such as wheat, soy, and tree nuts.7 Clients with food allergies who want to eat meat substitutes will need to read labels carefully, look for other words indicating food allergens, and consider the possibility of cross-contamination. Consumers who avoid eggs or dairy also need to read labels carefully, because even though meat substitutes don't contain meat, they may not be devoid of all animal products. In addition, people with intolerances to certain additives, including artificial colors, flavors, gums, added sugars, or sugar substitutes will have to read ingredient labels.
Highly Processed
Of the thousands of meat substitutes on the market, some are minimally processed and made with whole foods while others are highly processed and contain additives and flavorings; reading ingredient labels carefully is paramount. Consumers who want the most minimally processed meat alternatives should aim for products predominantly made with beans, lentils, tempeh, and tofu, and that use herbs and spices for flavor.
"Not all meat substitutes are made equally," Vogliano says. "Certain meat substitutes contain cheap fillers, which offer little or no nutrients. I tell my clients to opt for meat substitutes that are made with as many whole plant foods as possible. Some are made with a laundry list of ultraprocessed ingredients, while others are made with nutritious ingredients such as black beans, quinoa, and sweet potatoes."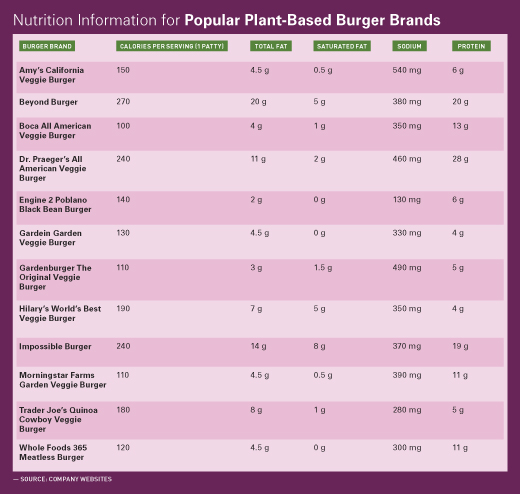 click to enlarge
What Will Propel the Category?
Because consumer interest in meat substitutes continues to rise, companies likely will continue to introduce new products in the near future. The driving factors behind the category's success will be manufacturers' better understanding of the type of products consumers want as they perfect flavors and textures that mimic meat and offer them at better price points.
Recommendations for RDs
Dietitians can answer clients' questions about incorporating meat substitutes in their diet by asking open-ended questions and educating them about balancing dietary patterns. They can help clients understand which meat substitutes may be most enjoyable for them and suggest culinary preparation tips that are in line with their taste preferences.
"Meat analogues are great transition foods for people wanting to move toward a plant-based diet," Petitpain says. "Processed foods of any kind, however, should be limited, and whole foods are ultimately the best. If you're going to a friendly BBQ, don't let your food choices hold you back—enjoy the party with a tasty veggie burger or soy dog. Don't overcook foods like veggie burgers, which simply need to be heated. This causes them to be hard and dry."
Vogliano says, "When in doubt, make your own. Black bean beet veggie burgers are incredibly simple to make at home. Homemade veggie burgers can also be frozen for future use."
If allergens or processed foods are a concern for patients, dietitians can advise them to consume whole vegan-friendly alternatives such as beans or tofu rather than prepared meat substitutes. Sauces, herbs, and spices can boost the flavor and acceptance of these protein substitutes, and trying them more than once in different ways also can be an effective strategy. Suggest different preparation methods and different flavor profiles to suit clients' preferences.
— Ginger Hultin, MS, RDN, CSO, is a nutrition and health writer and certified specialist in oncology nutrition based in Seattle. She's past chair of the Vegetarian Nutrition Dietetic Practice Group, past president of the Chicago Academy of Nutrition and Dietetics, and owner of concierge nutrition practice Champagne Nutrition LLC.
References
1. Our meatless future: how the $90B global meat market gets disrupted. CB Insights website. https://www.cbinsights.com/research/future-of-meat-industrial-farming/. Published January 16, 2019. Accessed March 26, 2019.
2. Category insight: meat alternatives. FONA International website. https://www.fona.com/meat-alternatives/. Published November 8, 2018. Accessed March 26, 2019.
3. Hoek AC, Luning PA, Weijzen P, Engels W, Kok FJ, de Graaf C. Replacement of meat by meat substitutes. A survey on person-and product-related factors in consumer acceptance. Appetite. 2011;56(3):662-673.
4. Jallinoja P, Niva M, Latvala T. Future of sustainable eating? Examining the potential for expanding bean eating in a meat-eating culture. Futures. 2016;83:4-14.
5. Melina V, Craig W, Levin S. Position of the Academy of Nutrition and Dietetics: vegetarian diets. J Acad Nutr Diet. 2016;116(12):1970-1980.
6. Foods linked to food poisoning. Centers for Disease Control and Prevention website. https://www.cdc.gov/foodsafety/foods-linked-illness.html. Updated April 19, 2018. Accessed March 26, 2019.
7. Collins SC. Practice paper of the Academy of Nutrition and Dietetics: role of the registered dietitian nutritionist in the diagnosis and management of food allergies. J Acad Nutr Diet. 2016;116(10):1621-1631.