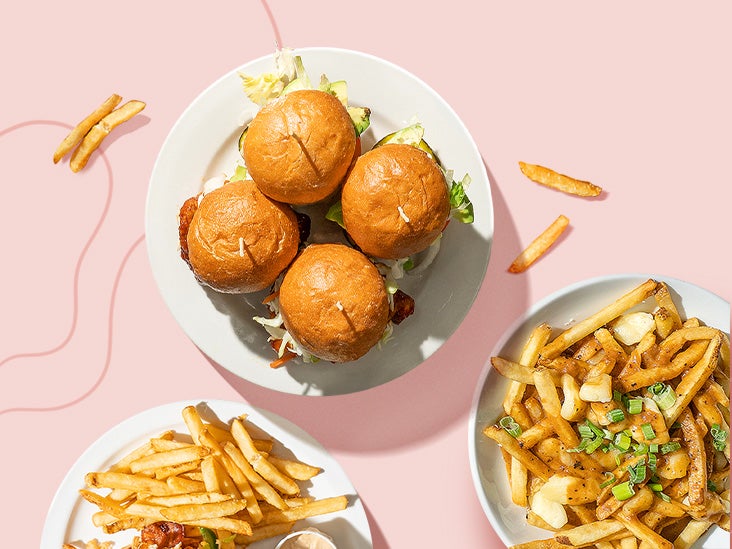 We include products we think are useful for our readers. If you buy through links on this page, we may earn a small commission. Here's our process.
If you once gave veggie burgers a try but wrote them off as rubbery or bland, think again. Thanks to the rise of plant-forward diets, flavorless hockey pucks are a thing of the past.
Even if you're not a vegetarian or vegan, a plant-forward diet — which emphasizes plant foods but incorporates small amounts of meat — can increase your overall fiber intake, which lowers your risk of obesity and weight gain (1).
A great veggie burger can be substantive, as well as bursting with flavor, vegetables, and legumes. Some can also be mistaken for beef patties.
Whether you're looking for a veggie-based or imitation meat burger, you're bound to hit a winner in this list.
Here are the 8 best veggie burgers based on their nutritional profile, ingredients, texture, appearance, and taste.
Veggie- and legume-based burgers are nutritious and fiber-filled — as well as versatile. You can put them on a bed of greens, sandwich them in a hamburger bun, or crumble them into a grain bowl.
Keep in mind that the burgers below are not trying to imitate meat, so don't expect them to have the look, taste, or consistency of animal-based products.
Veggie- and legume-based burgers are typically lower in protein than imitation meat burgers.
The downside of frozen and store-bought veggie burgers is that they can heap on the sodium.
Excess sodium intake is associated with high blood pressure and a higher risk of heart disease. Most people should get less than 2,400 mg (2.4 grams) of sodium per day — that's the equivalent of about 1 teaspoon of salt (2, 3, 4).
The best veggie burgers have 440 mg of sodium or less.
1. Dr. Praeger's California Veggie Burgers
This is an old stand-by. Dr. Praeger's carries a range of plant-based products, but this is touted as their most popular burger — with good reason. Their California burger blends peas, carrots, broccoli, soy protein, and spinach to satisfaction.
Each 2.5-ounce (71-gram) patty packs 16% of the Daily Value (DV) for fiber, 25% of the DV for vitamin A, and 5 grams of protein, with 240 mg sodium, or 10% of the DV (5).
Fiber helps keep your digestive tract healthy, while vitamin A is important for eye health (6, 7).
The only drawback is that these can get a little mushy if not toasted or browned on a stovetop (8).
However, Dr. Praeger's California Veggie Burgers are milk-free, peanut-free, shellfish-free, and tree-nut-free, making them a good choice for anyone with these food allergies or sensitivities.
They work particularly well when topped with avocados.
If you can't find Dr. Praeger's California Veggie Burgers at your local store, they're available online.
2. Hilary's Adzuki Bean Burger
This burger combines millet, adzuki beans, and quinoa. Adzuki beans are a sweet Japanese red bean, complemented here with spice and sweet potato. Quinoa is considered a whole grain and delivers all nine essential amino acids (9).
These all come together with peppery notes and a spicy kick.
Every 3.2-ounce (91-gram) burger packs 10% of the folate, magnesium, and iron DV into 180 calories. It only supplies a moderate amount of sodium, at 270 mg, or 11% of the DV (10).
While it provides 15% of the DV for fiber, it only has 4 grams of protein — so you may want to pair it with another source of…