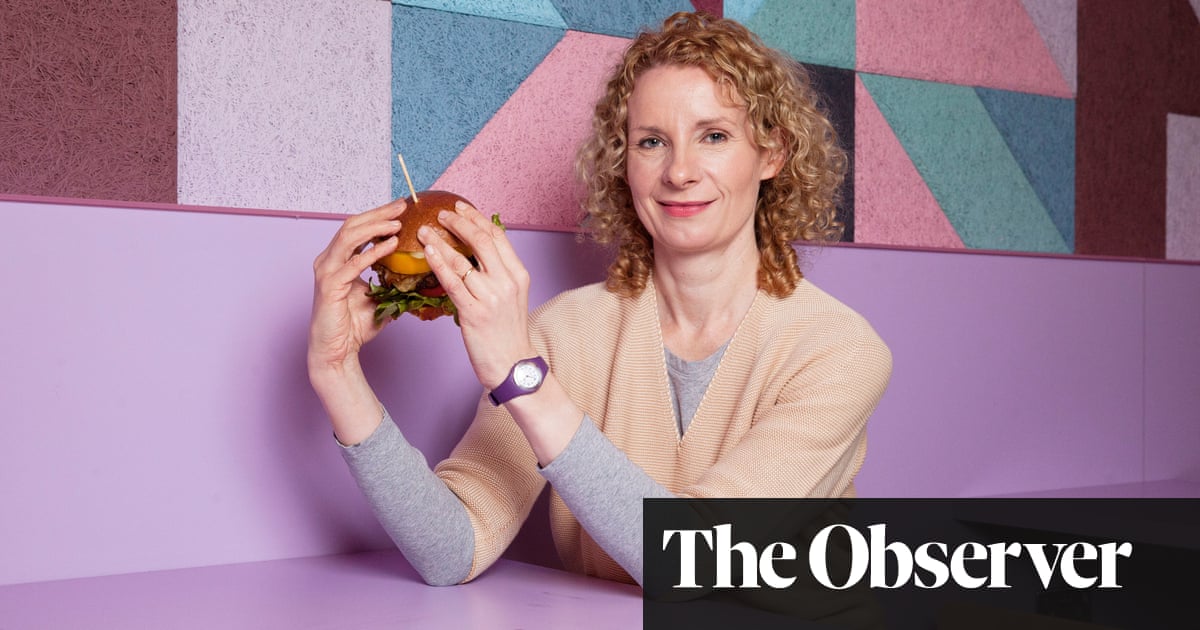 It looked like a burger from the cartoon Scooby-Doo: frilly green lettuce, neon-red slices of tomato, a yellow square of melted cheese, darkly caramelised onions, homemade ranch sauce and thick pieces of roasted portobello mushroom. The bun was as puffy as a pillow. The whole comforting edifice was so tall it needed to be held in place with a wooden skewer. There was so much savouriness going on in this burger – all of it good – that I hardly noticed the thick brown patty at the centre.
I was having dinner with my family at a hip new burger place in Cambridge called DoppleGanger. You order your food on touch screens as if you were at McDonald's. From the thin fries to the craft beers and homemade ketchup, you could be in a cool West Coast burger shack. The difference is that everything at DoppleGanger – from the hoisin "duck" strewn over a plate of fries to the rashers of "bacon" – is vegan. Taking the first juicy bite of burger, my nose and mouth were telling me "beef", even though I knew that I was eating textured soy protein.
As a meat eater, I have never been especially interested in fake vegetarian burgers. When I am trying to eat less meat (which is often) I'd rather have a grilled flat mushroom in a bun, which is delicious in its own right, than some weird slab of fakery. But this burger at DoppleGanger made me think again. If my senses could be fooled into thinking that I was eating a meat burger – and a very delicious one at that – then why should I ever need to eat a "real" burger again?
Alfy Fowler, the chef and owner of DoppleGanger, is a 28-year-old former art designer who sees vegan burgers as one way to rethink our relationship with food. And he is not alone. His is one of a new wave of eateries not only marketing themselves as vegan but doing so via "fake meat" offerings. These are part of a wider, rapidly growing fake-meat sector, driven by a population that is increasingly turning to veganism for both health reasons and ethical ones.
The takeaway service Just Eat reported that demand for vegetarian options among its customers grew by 987% in 2017. When Greggs launched its mass-market vegan sausage roll – containing a "bespoke" Quorn filling – at the start of January (or Veganuary), it created such a stir that for a few days there seemed to be something that people on social media cared about more than Brexit. The Greggs vegan roll achieved the distinction of being spat out by Piers Morgan on breakfast TV.
Walk into the average supermarket and you will now see a bizarre array of processed vegan products that never used to be there – from pasties to imitation "chorizo" sausages. Quorn – a fake meat made from mycoprotein – has been sold in Britain since 1985, but only in the past few years has it started to be sold in such a gallimaufry of versions, from vegetarian "ham" to nuggets, from fake turkey and stuffing to steak and gravy pies.
In the chilled vegetarian aisle there are now plant-based "meatballs", "burgers" and "goujons". You could wear your hands out making all the air quotes required to cover these vegan "meats". Quorn has also replaced the meat versions of nuggets and hot dogs on many school dinner menus.
It's not that the concept of imitation meat is anything new. For as long as there have been vegetarians – or people too poor to buy meat – there…