Meatless
Cole Saladino/Thrillist
With Meatless Week, Thrillist is taking a break from its meaty tendencies to indulge in all things vegetarian and vegan. We'll prod the philosophical quandaries of our dietary choices, ask for a reassessment of what it means to live meat-free, and much more — all without a single salad in sight.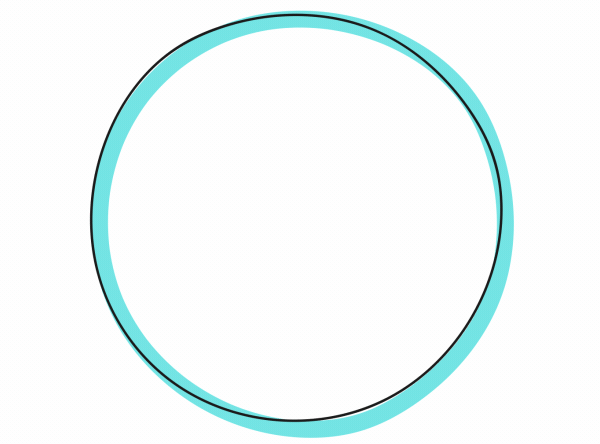 ‌
I'll admit feeling a little bad for vegetarians: Not only do they deprive themselves of delicious animal flesh, they also endure constant needling from carnivores about whether they eat bacon, whether they like real meat, and why they made such terrible life decisions. But you never hear vegetarians asking carnivores whether they've tried fake meat substitutes. "What about vegan bacon, you like that, right?" is a question that more or less never leaves a vegetarian's mouth. Probably because that would involve sharing fake bacon.
In an effort to understand and gain empathy for the vegetarian's plight, I, a staunch anti-veggie adult who eats like a toddler, bought a sampling of the most beloved fake meats, served them up to myself, and ranked them all. I sampled each major "meat" and opted for the most basic options of each type; in other words, there are no complex entrees or burritos here. This is how they stacked up.
Cole Saladino/Thrillist
I'm already a hot dog snob, so these guys weren't gonna do it for me. Most every brand of veggie hot dogs tastes the same, and the casing always bubbles up grotesquely the minute it hits the heat, evoking some horrific '80s Cinemax flick starring Freddy Krueger. The consistency is like somebody made Jell-O out of hot dog water, but cut it with extra water to eliminate most of the flavor. When the bun tastes stronger than the hot dog — and we're talking a generic, Wonder-style bun — you might as well eat a mustard sandwich.
Cole Saladino/Thrillist
These plant-based numbers taste like they'd fit right in on a $5 turkey footlong from Subway. That is not a compliment.
Cole Saladino/Thrillist
These vegan slices have the look, feel, and some of the flavor of America's favorite deli-meat punchline, though there's an overarching blandness that hurts this curiosity in the end. It also poses a deal philosophical question, especially for a bologna apologist like me: If you're going to go to the effort to make something that tastes almost exactly like watered-down bologna, why make it taste like the worst of all store-brand bolognas instead of the good stuff? Why not emulate some baller artisan brand? Or even Oscar Mayer? These are the thoughts that keep me up at night. That, and an upset stomach for doing this entire story in one sitting.
Cole Saladino/Thrillist
The pieces are slightly sweet, a little smoky, and actually pretty good, in a generic jerky sort of way. But they also dissolve into strands as you chew, like that gross jerky chew stuff redneck kids eat to emulate their dads' Skoal habit. If your chaw-chompin' dad voted for Roy Moore, and you're afraid to tell him you're vegan, this is your jam!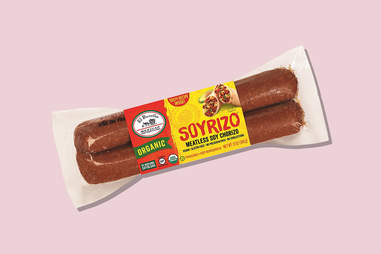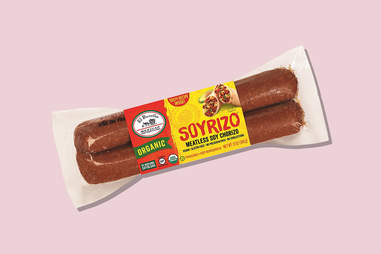 Cole Saladino/Thrillist
So, the tube makes this product, helpfully subtitled "meatless soy chorizo," look more like sausage than it really is. The casing, you see, is plastic, and the meat gets squeezed out…